Made in L.A. Vol. 4: Beyond the Precipice
Volume 4 Contents
"Burnt Tortilla Sugar" by Tisha Marie Reichle-Aguilera
A woman revisits a former lover and obsessively compares the past to the present.
"(Just) A Girl in the World" by Amy Jones Sedivy
Romantic urges tear a friendship apart and leave an art career in shambles.
"Bathypelagic Doubleshot Blues"by Karter Mycroft
An exploration of longing in the midst of delusional conspiracy.
"Where We Make Home" by Hazel Kight Witham
A voyage through gentle communities that take root, even when hope and survival are at risk.
"What I Left Behind" by Deborah Weiss
When wildfires threaten a home, the owner decides what she can save and what must stay.
"The Long Drop" by Rachael Warecki
An examination of violence and the price of survival in the cutthroat world of boomtime L.A.
"Huevos Fritos" by Lucy Rodriguez-Hanley
A frantically humorous glimpse of a woman awaiting test results — for pregnancy, not Covid.
"Requiem" by Aatif Rashid
A grieving writer shows us to what lengths we might go for tenuous resurrections.
"Finish Line" by Sasha Kildare
An Olympian at the height of her career questions her choices.
"Two Trunks" by Kate Mo
A young girl reckons with the aftermath of tragedy, secrets, and generational trauma.
"Living, Dead, and In-Between" by J.P. Higgins
The struggle of a homeless man is told from a unique, idiosyncratic perspective.
"Pandemic Salon" by Nick Duretta
An actor is unmoored from normalcy and set adrift in strange times.
"Stealing Away" by Cristina Stuart
Transgressive adventures while shopping reignite a woman's lust for life.
"Boys on Mulholland" by Janna Layton
Two social media influencers are reunited one evening in the Hollywood Hills.
"Lover's Leap" by Catie Jarvis
A woman finds her heart pulled in two opposite directions.
Vol. 4 Contributors
Nick Duretta
J. P. Higgins
Kate Mo
Karter Mycroft
Catie Jarvis
Sasha Kildare
Janna Layton
Aatif Rashid
Tisha Marie Reichle-Aguilera
Lucy Rodriguez-Hanley
Amy Jones Sedivy
Cristina Stuart
Rachael Warecki
Deborah Weiss
Hazel Kight Witham
---
Made in L.A. Vol. 3: Art of Transformation
Vol. 3 Contents
"Infamy" by Noriko Nakada
When Pearl Harbor is bombed, a Japanese family in L.A. finds their world transformed.
Minds buzz with foreign words: air strike, surprise attack, war.
"Boots" by DC Diamondopolous
A veteran encounters her past on the streets of Skid Row.
The same sun scorched downtown Los Angeles that had seared the Iraq desert.
"Unwanted Gifts" by AS Youngless
A neighborhood is torn apart by an unexpected arrival.
Bodies filed into streets as the few remaining sounds faded into stillness.
"Angels Live Here" by Nolan Knight
A bartender on the edge of sobriety meets a tantalizing temptation.
On a scale from moon to gutter, Jack was cradled by clouds.
"#MillennialExistentialism" by Lenore Robinson
A night out in Echo Park promises to change a young woman's life forever.
She already regretted driving all this way to walk into a hipster dance party alone.
"The City" by A.P. Thayer
Mulholland Drive sees a transplant consider how much he loves Our Lady of the City of Angels.
The city is beautiful, almost magical, from hundreds of feet up at four o'clock in the morning. It's only when you get up close that the ugliness is apparent.
"The Fortune of the Three and the Kabuki Mask" by Sara Chisolm
A Chinese-American daughter tests the limits of her family's desire for a son.
Gray billows of smoke from smoldering incense sticks attempted to claim every whisper of fresh air.
"Tell Me Your Name" by Roselyn Teukolsky
A young woman in Pasadena reconstructs a night when things went horribly wrong.
It's dark outside — February in Pasadena — tall skinny palm trees doing the funky skeleton in the wind.
"Shark News" by Karter Mycroft
An unemployed young man finds opportunity in an unexpected place.
At the time, he didn't know much about Venice, only that it seemed laid-back and had a nice breeze, and was about as far from his ex as he could get without falling in the ocean.
"The Good Life of Duke" by Erik Gonzales-Kramer
Nothing is as life-changing as when a dog claims its owner.
What kind of monster hits a dog and keeps on driving?
"Terminal Flight" by Barry Bergmann
What could have killed the man on the Blue Sky flight to LAX?
When Harbaugh and I got outside, we both took a deep breath, finding the smoggy air of the LA basin preferable to that of the morgue.
"Empty Glass" by Andrea Auten
A party in Silver Lake becomes the turning point in a woman's life.
She took more gin swallows then slapped it empty onto the table hard enough to hear splintering glass.
"Star Crossed" by Gabi Lorino
Cynicism and mysticism collide when an accident separates a SoCal woman from the man who haunts her dreams.
He drifted through SoCal, showing up every few months or so with a different gig and a different phone number.
"Call Us Home" by Cody Sisco
The LApocalypse is on its way and only Salt, the curanderx, can stop it.
Wondering how my otherworldly colleagues will contact me now, I go to the kitchen and drink the last of the goat's milk, pop four Lactaids and a few more anti-gas tablets, and start toward the shower.
"We Found Love as the Undead" by Sara Chisolm
A graffiti artist finds his art to be insufficient solace for his undead girlfriend.
The can emitted silvery beads of spray that mirrored the essence of Akiko's moonbeam skin.
"Night of Fires" by Allison Rose
A tragedy ripped a family apart; years later, their reconciliation is not what it seems.
It was a heat that came without warning, seeping in through the gaps of the front door, a sneaky persistence like water resting in the palm of a hand, determined to wetten the seemingly sealed spaces between fingers.
Vol. 3 Contributors
Andrea Auten
Andrea Auten is an MFA graduate and holds a post master's certificate in creative writing pedagogy from Antioch University Los Angeles where she works as a writing instructor. Her work has appeared in Lady/Liberty/Lit and Lunch Ticket. A vocalist, stage performer, visual artist, and arts teacher, she serves for many arts nonprofits. A member of the Degenerate Writer's Group, she is working on her novel and a short story collection. She lives in Los Angeles with her husband, sons, and beloved writing partner, Dusky, the family cat. Find her at andreaauten.com.
Barry Bergmann
Barry Bergmann's grandfather moved his young family to Los Angeles after surviving the 1906 San Francisco earthquake, thinking earthquakes would not be an issue in Southern California. Even though his research may have been unsound, no member of the three subsequent Bergmann generations would find fault with his decision. Barry's lived in five countries and thirteen cities during a 35 year airline career, but LA has always been the answer to the question, "Where are you from?" Retired now, he loves reading, running, travel, and of course writing. He splits his time between Tokyo, Arizona and naturally Los Angeles.
Sara Chisolm
Sara Chisolm is a speculative fiction writer based in the Los Angeles area. Her urban fantasy short story, "Serenade of a Gangsta," was featured in the second volume of the Made in L.A. fiction anthology series.
DC Diamondopolous
DC Diamondopolous is an award-winning novelette, short story, and flash fiction writer with over 200 stories published internationally in print and online magazines, literary journals, and anthologies. DC's stories have appeared in: 34th Parallel, So It Goes: The Literary Journal of the Kurt Vonnegut Museum and Library, Lunch Ticket, Raven Chronicles, Silver Pen, Front Porch Review, and many others. Among DC's many awards and honorary mentions are: 2018 Finalist for ScreenCraft's Short Story Contest and 2017 nomination for Best of the Net Anthology. She lives on the California central coast with her wife and animals. Read more at dcdiamondopolous.com
Erik Gonzales-Kramer
Erik Gonzales-Kramer has loved writing stories since he could hold a pen, when he first wrote about space-faring sea otters of the future. When he is not writing short stories or editing his longer novels-in-process, he is busy with one of his many other passions—swing and blues dancing, sustainable action, and traveling. Though he loved growing up in the forests of Michigan, he is a proud Los Angeles transplant, where he shares his passion for prose with a dedicated community of storytellers of all mediums and walks of life. Keep up with Erik at erikgonzaleskramer.com
Nolan Knight
Nolan Knight is a fourth generation Angeleno whose short fiction has appeared in various publications including Akashic Books, Thuglit, Needle, Shotgun Honey, Tough, and Crimespree Magazine. His debut novel, The Neon Lights Are Veins, was released by 280 Steps Press and his short story collection, Beneath the Black Palms, is currently represented by Nat Sobel of Sobel Weber Associates. Find out more at NolanKnight.com / Insta: @Nolan_Knight_.
Gabi Lorino
Gabi Lorino is a writer, editor, and ukulele player. Her first ebook, A Magical Time Called Later, was inspired by several conversations with a disgruntled 38-year-old bridesmaid and her own experience as a singleton. She is a founding member of Made in L.A. Writers and has contributed to all the Made in L.A. anthologies.
Karter Mycroft
Karter Mycroft is an author, editor, musician, and fisheries scientist who lives in Los Angeles. They are currently hard at work on a novel about dead fish and the people who love them. Their short fiction has been published or is forthcoming in The Colored Lens, Black Hare Press, Trembling With Fear, Lovecraftiana, and Murder Park After Dark.
Noriko Nakada
Noriko Nakada lives in Los Angeles and is committed to teaching and writing thought-provoking creative non-fiction, fiction, and poetry. Publications include her memoir series: Through Eyes Like Mine. Through Eyes Like Mine was shortlisted for the 2040 Book Award. Overdue Apologies: a middle school memoir and I Tried: Tales from an Emerging High School Feminist complete the trilogy. Excerpts, essays, and poems have appeared in Catapult, Meridian, Kartika, Hippocampus, Compose, Linden Avenue. She is an editor for Women Who Submit, an organization empowering women and non-binary writers to submit their work for publication. Read more on Noriko's website.
Lenore Robinson
Lenore Robinson came to writing as therapy, a way to coalesce her thoughts and emotions into something tangible. The themes she explores are from her own lived experience as well as the stories that have intersected with hers. When she's not writing fiction, she can be found writing code. Read more on Lenore's website.
Allison Rose
Allison Rose is a novelist and screenwriter born and raised in Los Angeles. Tick, the first in her young adult science fiction series, tackles mental illness, artistry, and violence – themes close to Allison's heart. It has been followed by Vice, part two of the Tick Series, and is based in a versed interpretation of near-future L.A. While Allison's stories vary in genre, her focus centers on the struggles of complex female characters and the deconstruction of clichés and tropes about women. She has used her twenty years of graphic design experience to create her own book covers, including all three volumes of Made in L.A. She is a founding member of Made in L.A. Writers. Read more on Allison's website.
Cody Sisco
Cody Sisco is an author of speculative fiction that straddles the divide between plausible and extraordinary. His Resonant Earth Series includes two novels thus far, Broken Mirror and Tortured Echoes. The third novel in the series, Altered Bodies, is forthcoming in 2021.
Cody is a 2017 Los Angeles Review of Books / USC Publishing Workshop Fellow, a co-organizer of the Los Angeles Writers Critique Group, and a founding member of the Made in L.A. Writers. His startup, BookSwell, connects readers with authors, maintains a literary events calendar, and serves as a community hub for book lovers in L.A. Find out more on Cody's website.
Roselyn Teukolsky
Born and raised in South Africa, Roselyn Teukolsky traveled to California when she was 22, in a successful quest to nail down her boyfriend, who had escaped to Caltech. He is now her husband. Roselyn taught math and computer science for many years, and is the author of the Barron's review book for AP Computer Science. She also wrote How to Play Bridge with Your Spouse … and Survive (Master Point Press, 2002). Roselyn's latest passion is writing fiction—thrillers about unfortunate protagonists who land in trouble. Her latest novel in progress is An Unlikely Spy.
A.P. Thayer
A.P. Thayer is a Mexican-American author based out of North Hollywood. He writes grimdark fantasy, latino-futuristic cyberpunk, and cosmic horror. His work has appeared in Five on the Fifth literary magazine and the horror anthology Murder Park After Dark. He is a member of Speculative Ink, a Los Angeles based writing group, and one of the hosts of The Genre Hustle podcast.
A.P. had the privilege of growing up in Europe, where Gothic architecture, medieval folklore, and old-world landscapes captured his imagination. At the same time, his mother taught him about his Mexican heritage, sharing stories about her family and fairy tales while teaching him how to cook.
Nowadays, he fills as much of his time as possible with his two passions, writing and cooking.
AS Youngless
AS Youngless is a speculative and fantasy-based fiction writer who lives in sunny Los Angeles with her husband, son and too many pets to name. She finds inspiration in the people she meets as a yoga teacher and leader of an elementary-aged Graphic Novel Book Club.
Made in L.A. Vol. 2: Chasing the Elusive Dream
Contents
"Serenade of the Gangsta" by Sara Chisolm
A gangsta's life is thrown off-course by a chance encounter with a mariachi.
If you wanted to hustle, you had to sacrifice.
"Luigi's Song" by Jude-Marie Green
When a whale's songs come to haunt a teenage girl, she goes diving for answers.
I live between heaven above and hell below.
"Lucky and Carmela" by Nick Duretta
A deliveryman at the wrong address meets a woman who could brighten his life or ruin it.
He felt like he was in a dream, cruising down the street in a fine car with a pretty girl.
"Billboard Cowboy" by Axel Milens
A retired icon reaches the breaking point, and his family suffers the consequences.
There was a faint smile at the corner of his mouth, as if he had it all figured out.
"College Lessons" by Gabi Lorino
While discovering her own voice, a young woman has far more to learn than what's on the syllabus.
Girls like me didn't end up with the lead singer. We ended up with posters of the lead singer.
"Face" by Cody Sisco
When a haunting face appears on a freeway overpass, a lonely young man slips into L.A.'s dark magical underbelly.
We'd all learned in Romeo and Juliet that love unhinged.
"Two Kings" by C. Gregory Thompson
A day laborer survives a fall only to find himself stuck in a drug dealer's den.
I look into his still open eyes and answer the questions they ask. Yes, I'm going to help you. Yes, I'll try to keep you alive.
"Mouth Bay" by Nolan Knight
A waitress looks for fixes in all the wrong places.
Have I ever been anything more than lowbrow gossip?
"For Hire" by A.S. Youngless
An orphaned werewolf girl must face the true price of her freedom.
I was a monster, one that should only exist on television or in films. Yet, there I was, on her doorstep.
"Letting Go" by Gabi Lorino
When it comes time to leave, goodbye is too good of a word for a toxic workplace.
I'd never been so happy about that weird blue strip on my swipe card with CONTRACTOR in white font, all caps.
"Burning Man" by James Ferry
A roadie junkie escapes to the desert and finds more than he ever expected.
Of course one did not purchase anything at Burning Man. One acquired. It was spiritual.
"Edition of Ten" by Abigail Walthausen
A printmaker's wife imagines the dangers lurking in dark corners of L.A.
She soaked up the frisson of Los Angeles — a metropolis that really was as seedy and as noir as the films showed.
Contributors
Sara Chisolm was born and raised in the City of Angels. She still resides here with her two young children, who insist on being called by the weird pet names that their mother has bestowed upon them. When Sara isn't teaching small children, she is chugging bubble tea or coffee while frequenting the cultural enclaves of her hometown.
She is interested in learning about different cultures and languages. She lives by the mantra that "one more book isn't enough books," so she continues to buy more. She enjoys writing speculative fiction based in urban settings.
Nick Duretta is a writer based in Pasadena, California. His career has encompassed a wide range of activities, from managing communication programs for Fortune 500 corporations to writing textbooks and screenplays. He has also conducted writing and oral presentation workshops and spoken at several international communication conferences. He is now focused on writing fiction. (His current project: a series of mystery novels.) When not hunched over his keyboard, he is out walking in the Southern California mountains and hills, enjoying his favorite pastime.
James Ferry did his MFA at Goddard College, his MA at UMass, and he's currently at URI, working on his PhD. His work has appeared in Academe Magazine, The Fiddleback, Pitkin Review, Heavy Feather Review, Citron Review, and the Hamilton Stone Review, among others.
He currently teaches college English courses to male offenders preparing to reenter society. A lifelong itinerant bachelor, he remains, at forty-five, single and childless. Though little about him could be called permanent, he can always be found at www.swirlsinthenegativespace.com.
Jude-Marie Green is a writer of genre (science fiction and fantasy, plus the occasional horror) fiction. She lives in Southern California amid palm trees, orange trees, avocado trees, roses, and birds. Lots of birds.
She is a fan of long standing. Her first convention was in 1977 at the Los Angeles Airport Marriott. She attends many conventions, including NorWesCon in Seattle where she is frequently a panelist and professional author as part of the Fairwood Writers Workshop. Find her online at: judemarie.wordpress.com.
Nolan Knight is a fourth-generation Angeleno whose short fiction has been featured in various publications including Akashic Books, Thuglit, Crimespree Magazine, Shotgun Honey and Needle. He is a former staff writer for Los Angeles' biggest music publication, the L.A. Record. His debut novel The Neon Lights Are Veins was published by 280 Steps in 2017. He currently resides in Long Beach. Peep more at NolanKnight.com.
Gabi Lorino started off life as a Tampeño, but now that she's reached the five-year mark in the City of Angels, she is officially an Angeleno. Finally, this place is starting to make sense!
Ms. Lorino writes stories that feature socially awkward women who occasionally interact with men. Her tales are based on her 20+ years in the dating world and hilarious stories told by friends, sisters, and strangers in public places. Gabi is a proud member of Generation X, and she's heard more than once that her characters "act a bit younger than they are" and maybe "need an attitude adjustment," which makes her love them even more!
Born and raised in France, Axel Milens is now a proud American writer, husband, and father. He lives in the Hollywood Hills with his wife, his four boys, and a dog named Maybe (finally, a girl). Axel is working on a collection of short stories about the brave and sometimes tragic souls who survive, love, and die under the Southern California sun.
Allison Rose is a novelist and screenwriter from Los Angeles. Tick, the first in her young adult science fiction series, tackles themes of mental illness, artistry, and violence. It has been followed by Vice, part two of the Tick Series. While Allison's stories vary in genre, her focus centers on the struggles of complex female characters.
Cody Sisco is the author of speculative fiction that straddles the divide between plausible and extraordinary. His Resonant Earth Series includes two novels thus far, Broken Mirror and Tortured Echoes, and a short story prequel, Believe and Live. The third novel in the series, Altered Bodies, will be published in 2019.
Cody is a 2017 Los Angeles Review of Books / USC Publishing Workshop Fellow. He is also a co-organizer of the Los Angeles Writers Critique Group. His startup, BookSwell, makes the book scene in L.A. easier to navigate, introduces readers to new writing, and weaves together digital and real-life literary experiences. Find out more at: www.bookswell.club.
C. Gregory Thompson, a Pushcart Prize nominee, writes fiction, nonfiction, plays, and memoir. His work has appeared or is forthcoming in The Maine Review, STORGY Magazine, Writers Resist, Five:2:One, Cowboy Jamboree, Full Grown People, The Offbeat, Printers Row Journal, and Reunion: The Dallas Review. His work also appears in this anthology and Writers Resist: The Anthology 2018. He was named a finalist in the Tennessee Williams/New Orleans Literary Festival's 2015 Fiction Contest. He earned an MFA in Creative Writing and Writing for the Performing Arts at the University of California, Riverside/Palm Desert. Find out more at: http://www.cgregorythompson.com.
A.S. Youngless has been passionate about writing since her childhood. She runs the Graphic Novel Book Club for elementary school students in the hope of sharing her love of writing with the next generation. "For Hire" is her first published story. She lives in beautiful Los Angeles with her husband, son, cat, fish, and hermit crab named Spider.
Abigail Walthausen lives in Los Angeles, where she writes and teaches.
Made in L.A. Vol. 1: Stories Rooted in the City of Angels
Vol. 1 of an Annual Fiction Anthology from Made in L.A. Writers
Available Now!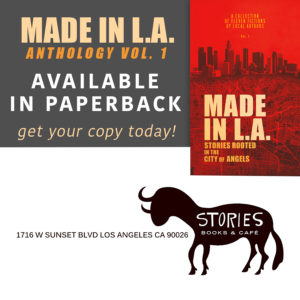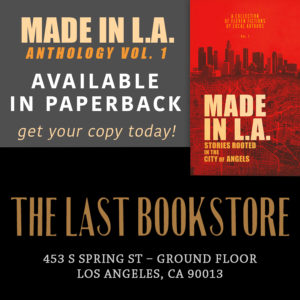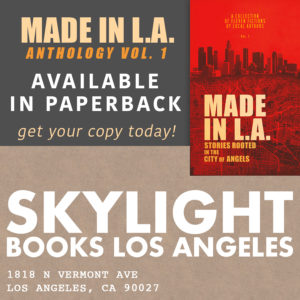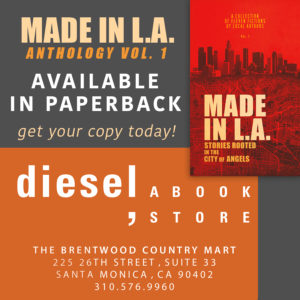 From AMAZON – $3.99 ebook / $12.99 paperback | Available on request wherever books are sold
Here's the scoop on how this anthology series came to be:
In 2017 four indie authors first came together under the Made in L.A. banner to support each other and share a booth at the Los Angeles Festival of Books. We passed out bookmarks, watched as kids made away with our candy, chatted with a few questionable characters, and found many new fans. We expected all of that.
What surprised us was how many people approached our booth with a version of the question: Are these books all set in L.A.? Our reluctant though truthful response, "Not really," didn't satisfy them and it didn't satisfy the four of us, who saw a missed opportunity to give them what they want.
About the Anthology
Readers in Los Angeles are thirsty for stories that bring their city to life. This anthology features a diverse range of voices and genres. Like the City of Angels in which these stories were born, nothing is off-limits. Literary or contemporary, noir or ghost story, fabulism or science fiction, each story in this volume will forever change the way you look at this iconic metropolis.
Made in L.A. Writers is a collaborative of Los Angeles-based authors dedicated to nurturing and promoting indie fiction. This 2018 volume is the first of the annual Made in L.A. anthology series. While our styles, themes, and story locales differ, our work is both influenced and illuminated by our hometown and underpinned by the extraordinary, multifaceted, and often surreal culture and life in the City of Angels.
Made in L.A. Vol. 1 Contents
"Between Broken Pieces" by Allison Rose
Four women are caught in the spotlight of a starlet with one last, dark performance up her sleeve.
"Going with the Flow" by Gabi Lorino
A weary job-hopper contemplates her future in L.A. when yet another contract ends.
"Salt in the Hell Mouth" by Cody Sisco
The demonic invasion of Los Angeles is underway and only a curanderx can stop it.
"Chromosome Circus" by Amy Sterling Casil
Can a circus of genetic freaks care for the abandoned furry boy who shows up out of the blue?
"Little Woman" by Cody Sisco
A workplace harassment incident has severe consequences when the victim shrinks to doll-size.
"Negro in a Hot Tub" by Andre Hardy
A black writer visiting the Hollywood YMCA confronts his worst nightmare: a man with tiny hands.
"No Vacancy" by Bonnie Randall
A hotel in downtown LA is the source and focal point for shattered dreams and too many deaths.
"Wild Irish Rose" by Gabi Lorino
Life lessons unfold for an old lady who thought she knew everything decades before.
"Endless Summer" by Jude-Marie Green
Stranded in Venice, an interplanetary visitor finds solace in surf rock until a stranger arrives.
"Unquiet Baggage" by Cody Sisco
On a train in Highland Park, a dead man's ghost bemoans his husband, his murderer.
"Dry Bones" by Dario Ciriello
The discovery of a young woman's remains in the Altadena foothills erodes the boundary between the present and past