Stories Rooted in the City of Angels
Available Now!
From AMAZON – $3.99 ebook / $19.99 paperback | Available on request wherever books are sold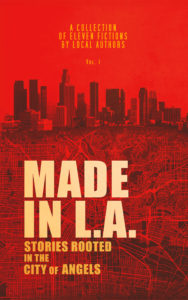 Here's the scoop on how this anthology series came to be:
In 2017 four indie authors first came together under the Made in L.A. banner to support each other and share a booth at the Los Angeles Festival of Books. We passed out bookmarks, watched as kids made away with our candy, chatted with a few questionable characters, and found many new fans. We expected all of that.
What surprised us was how many people approached our booth with a version of the question: Are these books all set in L.A.? Our reluctant though truthful response, "Not really," didn't satisfy them and it didn't satisfy the four of us, who saw a missed opportunity to give them what they want.
About the Anthology
Readers in Los Angeles are thirsty for stories that bring their city to life. This anthology features a diverse range of voices and genres. Like the City of Angels in which these stories were born, nothing is off-limits. Literary or contemporary, noir or ghost story, fabulism or science fiction, each story in this volume will forever change the way you look at this iconic metropolis.
Made in L.A. Writers is a collaborative of Los Angeles-based authors dedicated to nurturing and promoting indie fiction. This 2018 volume is the first of the annual Made in L.A. anthology series. While our styles, themes, and story locales differ, our work is both influenced and illuminated by our hometown and underpinned by the extraordinary, multifaceted, and often surreal culture and life in the City of Angels.
Made in L.A. Vol. 1 Contents
"Between Broken Pieces" by Allison Rose
Four women are caught in the spotlight of a starlet with one last, dark performance up her sleeve.
"Going with the Flow" by Gabi Lorino
A weary job-hopper contemplates her future in L.A. when yet another contract ends.
"Salt in the Hell Mouth" by Cody Sisco
The demonic invasion of Los Angeles is underway and only a curanderx can stop it.
"Chromosome Circus" by Amy Sterling Casil
Can a circus of genetic freaks care for the abandoned furry boy who shows up out of the blue?
"Little Woman" by Cody Sisco
A workplace harassment incident has severe consequences when the victim shrinks to doll-size.
"Negro in a Hot Tub" by Andre Hardy
A black writer visiting the Hollywood YMCA confronts his worst nightmare: a man with tiny hands.
"No Vacancy" by Bonnie Randall
A hotel in downtown LA is the source and focal point for shattered dreams and too many deaths.
"Wild Irish Rose" by Gabi Lorino
Life lessons unfold for an old lady who thought she knew everything decades before.
"Endless Summer" by Jude-Marie Green
Stranded in Venice, an interplanetary visitor finds solace in surf rock until a stranger arrives.
"Unquiet Baggage" by Cody Sisco
On a train in Highland Park, a dead man's ghost bemoans his husband, his murderer.
"Dry Bones" by Dario Ciriello
The discovery of a young woman's remains in the Altadena foothills erodes the boundary between the present and past